Our goals
Our Business
The development of new cell therapies
for the treatment of leukemia
and other blood cancers and genetic disorders
Hematopoietic stem cells (HSCs) are the source of blood cells and have the functional capacities of pluripotency and self-replication, giving them a very wide range of application. The HSC expansion technology that we are conducting aims to maximize the various medical benefits of HSCs, and to utilize them in the most effective way.
What we are particularly focused on is how to make the best possible use of umbilical cord blood and peripheral blood, from which limited amounts of HSCs can be harvested. Our aim is to leverage the special characteristics of each and to develop products that can be used to treat patients suffering from acute leukemia and genetic disorders, etc.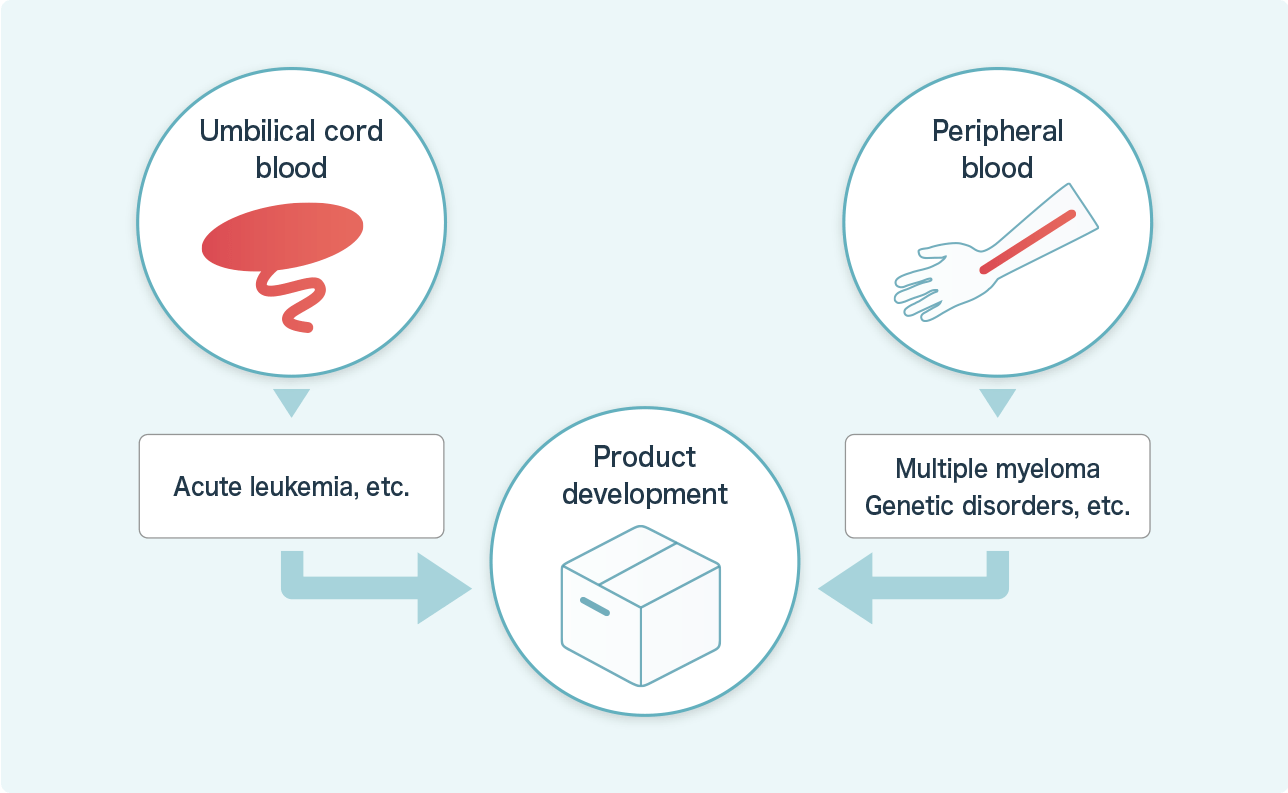 From the very practical standpoint of in-vitro expansion of HSCs, we plan to develop and commercialize HSC regenerative medical treatments that are safer and of higher quality than current therapies.
Support for regenerative medicine and drug
discovery research around the world
In addition to its application in cell therapy products for the treatment of patients suffering from blood cancers and genetic disorders, etc., our cell expansion technology also has the potential to be a platform for many kinds of drug discovery research and development around the world.
The efficient and reliable expansion of human HSCs, which have been difficult to obtain, and difficult to expand in quantity in-vitro, will contribute to a greater degree of freedom in research and development, not only in Japan but around the world, and will be a powerful tool in support of research in regenerative medicine and drug discovery.
Together with the experience that we have built up in research and development, we plan to continue to support those engaged in research and development in regenerative medicine, cell culture and drug discovery.
Furthermore, cell therapy currently occupies a central position in regenerative medicine, and it is believed that the market size of the field of cell therapy overall is set to grow at the astonishing speed of over 20% annually, on average.
In this rapidly burgeoning cell therapy market, we will leverage our superior technology to develop our business by providing platform technologies and regenerative medicine products.