Celaid Therapeutics participated in the final judging held on July 11, 2022 at the 9th Rise up Festa, a business support program sponsored by one of the largest financial groups in Japan, MUFG Bank, Ltd. and Mitsubishi UFJ Trust and Banking Corporation, and was selected for the "Grand Prize" in the field of "Health Society and Well-being".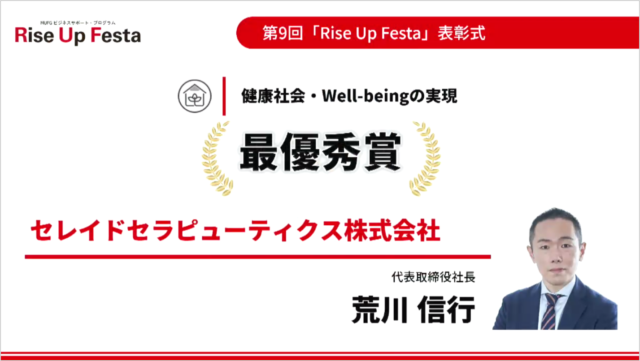 Nobuyuki Arakawa, President and CEO of Celaid Therapeutics, took the stage at the final judging of the "9th Rise up Festa" to give a presentation on the development of regenerative medicine using cord blood to treat intractable diseases such as leukemia.
Leukemia and other blood cancers are an area of increasing incidence due to the aging of the population, and further development of treatments to cure these diseases is long awaited not only in Japan but in many other countries around the world. The regenerative medicine products being researched and developed by Celaid Therapeutics will expand the possibilities of transplantation as a curative treatment for various blood cancers, and are expected to be utilized in the treatment of many patients as next-generation cell therapy products.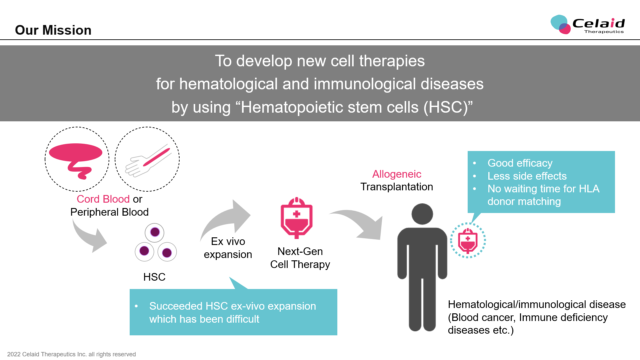 < Nobuyuki Arakawa, President and CEO of Celaid Therapeutics Inc. >
"We are very honored to receive this award as a result of the high evaluation by a group of leading Japanese financial institutions regarding the feasibility and potential of our cell therapy products for leukemia and other diseases. We hope that this award will serve as an opportunity for many medical professionals and medical-related companies to become aware of our efforts, and we will continue to work hard to establish a new treatment for this intractable disease."